Newfoundland moose hunts in our hunting area are highly successful and a welcomed hunting adventure for any hunter. Most of our Newfoundland moose population is located in remote areas, accessible only by aircraft and Woodman's Outfitters is located in one of the best of these remote hunting areas. Moose were first introduced into the Province of Newfoundland and Labrador in 1878 and again in 1904 with the initial number of four moose. In 1932, Newfoundland had its first moose hunting season. Due to our natural and rugged terrain the moose flourished and today we can boast of a healthy population of 120,000 animals. Our wilderness Newfoundland moose hunts take place at our remote hunting camp located on Blue Hill Pond next to the borders of the Bay du Nord Wilderness Protected Area. Moose in our area can weigh up to 1200 pounds with a spread of 50 plus inches. Why don't you book your next Newfoundland moose hunt with Woodman's Outfitters? We have experienced hunting guides, great food and wonderful Newfoundland hospitality and an abundance of big game. I guarantee or assure you that it won't be your last.
Moose Hunting Rates
Moose Hunt Success Rate Last 2 Years
0
Fun and Excitement Rating
0
Newfoundland Food Rating
0
Newfoundland Moose Hunt Video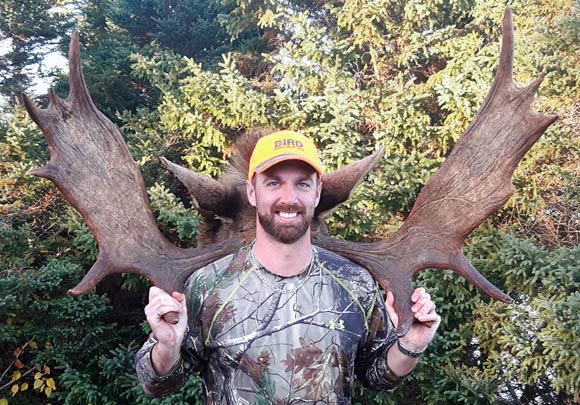 We want you to share in our passion for hunting. We won't be satisfied until you experience what we experience while hunting for your trophy moose or black bear. Make Woodman's Outfitters your next Newfoundland hunting destination.
Book Now!