Newfoundland Hunting Outfitter
Mark Woodman
Our goal as a Newfoundland hunting outfitter is for you to enjoy the hunt as much as we enjoy hunting. We want to instill our passion for hunting into your overall hunting experience with us. We want you to share in our passion for big game hunting in Newfoundland. We won't be satisfied until you experience what we experience while hunting. Yes, we want you to get your monies worth but deep down we want you to get more. We are a small fly in, stay in, fly out Newfoundland hunting outfitter operation. We will give you the opportunity to bag that trophy moose or that trophy black bear or both. Your success is our success. We offer a low number of licences for this area so that we can maintain a healthy population of moose and black bear. We can spend more time with individual hunters, we can better delivery the services that you require and it makes it more personal. Try our product you will not be disappointed. Looking forward to seeing you this fall in my new moose hunting lodge here in Newfoundland, Canada.
Until we meet with a cold beverage and fresh moose
Mark Woodman – "Woodman's Outfitters", the name says it all!
Why hunt with "woodman's outfitters".
With our sense of sustainability and the low number of Newfoundland hunting license for this area it allows for a successful hunt, year after year.
The area is very remote, accessible only by float plane or helicopter.
A new and modern hunting lodge is presently under construction and will be completed and ready for occupancy for the fall hunt of 2019. All modern amenities to be included for your comfort while hunting your trophy moose or our huge black bear.
All Newfoundland home cooked meals will be prepared by local certified cooks. We will give you a taste of good old Newfoundland grub. A treat for sure.
Through the experience gained through the many years of hunting in Newfoundland, the owner/operator Mark Woodman will take you on an exciting big game hunt for a trophy animal. As he himself has experienced many successful hunts.
We use spot and stock and/or calling methods with our small amount licences we will be hunting during the rut. Therefore making it easier for calling in those trophy bulls in a close range.
Our hunting area here in Newfoundland borders on the Bay du Nord Wilderness Protected Area. This lessons the hunting pressure for our hunting area.
This past fall 2018, there were 40 trophy moose sighted in a two square mile area from our base camp on Blue Hill Pond, Newfoundland.
Daily black bear sightings as you look out across Blue Hill Pond from the patio of the base camp/lodge.
You have the choice of a Newfoundland moose hunt, a Newfoundland black bear hunt, or you could have the best of both and take our combination moose and black bear hunt.
Within the area and while hunting, transportation will be supplied by Argo, boat, canoe and of course by foot.
We are passionate about hunting. Let us share this passion with you.
You will not be disappointed in the natural beauty, the rugged terrain and the scenic landscapes we have to offer while hunting in Newfoundland.
Spike camps will be available for the more adventurous hunter.
Experienced Newfoundland hunting guides and meat preparation personnel available
Moose in this area of Newfoundland can attain a weight of 1200 pounds with a spread of 50 plus inches. Black bear in the area can attain a weight of 650 pounds. The biggest black bears in Canada.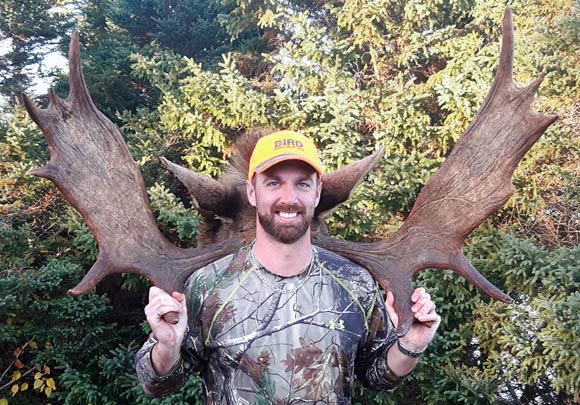 We want you to share in our passion for hunting. We won't be satisfied until you experience what we experience while hunting for your trophy moose or black bear. Make Woodman's Outfitters your next Newfoundland hunting destination.
Book Now!